New Discovery reveals why
only 3% succeed in life!
"What an experience! Your seminar changed my life - as you would say, 'There has been a shift in my fundamental way of being.' My life has taken on new meaning, and I'm producing results like never before."
Dennis James -- Pittsburgh, PA

What do Tiger Woods, Michael Jordan and Randy Ward have in common?
DALLAS, TX—Randy Ward was featured recently on a special live broadcast of American Success Stories originating live from the 100,000 watt studios of KWRD-FM the WORD 94.9.
In a wide-ranging interview heard in live simulcast around the world at thewordfm.com, Mr. Ward was likened to Tiger Woods in the sense that both had begun careers in their respective fields at an early age—and both are considered to be "difference makers" by their peers.
The world at large knows that any time Tiger Woods sets foot on a golf course, he is liable, as Michael Jordan had done before him, to clearly separate himself from "the rest" of even the best players in the world.
While Randy Ward does not share the same world-wide sports spotlight with Jordan and Woods, the similarities, as noted by those who have attended his workshops and seminars, run deep.
"Randy Ward," noted one attendee of an all-day workshop, "is known as 'the difference maker' around here because he has the ability to reach people in a way which produces permanent, positive change."
Difference Maker
"Randy Ward is someone who has been grappling with the issues of life change so deeply, for so long, he is able to both articulate—and communicate at the 'soul' level—so effectively you gain the realistic hope that the changes you seek are really possible—and you get the sense that 'these changes are real for me.'"
American Success Stories asked Randy Ward point-blank about how such life-changes could be possible?
"To be effective, good communication must ultimately be 'transformational.' Are my audiences any different on Monday morning than they were on Saturday? Will such changes take root and grow?
"To impact a person's life to the extent of producing such change, there is a dimension far beyond 'entertainment'—or even mental assent. There is a new dimension of awareness somewhat akin to the removal of one's wisdom teeth. Tough process—worthwhile result."
Why the "Rich get Richer"
When asked to elaborate, Mr. Ward continued, "The 'rich get richer' because they are conditioned for wealth, and the 'average stay average' because they are conditioned that way. Most of us, as small children, were made to feel inadequate, insecure, unworthy, and afraid. The conditioning is so deep and subtle that, as adults, we don't even realize it is there. Fear grips some people to the point of paralysis. They are bound, as in a choke-hold. Not free to live, they plod along accepting a cheap substitute for vibrant living."

"Whether it be finances, relationships, or happiness, in order to move to the 'next-level,' this childhood conditioning must be released, and that's what Randy's work is all about. It's not about learning some new technique. It's about discovering what's stopping you."


Removing the "Chains that Bind"
"Randy gives us access to a whole new "level of being" -- a level from which emotional detoxification is automatic. The distinctions that Randy has uncovered (the truth) will set you free from the chains of self-limitation!
"Have you ever witnessed a person whose sight or hearing has been restored in a moment of time? Have you seen the delight of the removal of a long-standing burden? The same thing happens when a person learns how to deal with and manage fear. It's Life-changing.
"Imagine the thrill of living life by your own creative design—instead of accepting what is dished out by others."
Vibrant Living
Continuing, Randy stated, "I have been captivated all my life by the question, 'What makes the difference?' I have immersed myself in it, and have marinated myself with the issues. I have personally experienced the exodus from mere head knowledge to the deeper reckoning of the heart—from which realm the true issues of life really proceed."
Can such change be grasped quickly? "Sometimes," he said. "Sometimes not. Often, the teacher appears when the student is ready, so to speak."
"Imagine, again, the adventure of someone moving to new levels of confidence, leadership, accomplishment and self-esteem.
"I love people. My mission is to facilitate life-change."
Southwest Bureau of American Success Stories
________________________________
Randy is the author of six books,
and is known internationally as
a "transformational speaker".
The Truth Will Set You Free
You don't need a secret service agent to tell you that secret knowledge equals power. Randy Ward's seminar contains secret knowledge you absolutely can't be without, because it can make you irresistibly powerful in business, as well as in your personal life.
With this exclusive information, you are likely to join the elite 3%, enabling you to create a legacy of Financial Freedom for you and your family. Without it, most are doomed to the "struggle and effort" of mediocrity. We are destined for prosperity, yet there seems to be a conspiracy to keep the masses enslaved.

During the last 50 years, researchers have uncovered amazing secrets, however, the researchers are scientists - not messengers. Their findings are available, but confusing. Until the scientific and academic jargon and procedures were translated, they remained hidden. A dedicated student/messenger had to gather, integrate, simplify and deliver these powerful, life enhancing concepts, so you can apply them today, and alter the course of your life forever.

Things Happen for a Purpose

"Daily, I give thanks for my special gift. I am a messenger, and thousands who have attended my seminars will agree that I have an important message for you. It's no accident that you are reading this now! This moment is the first moment of the rest of your life, and if you act on it, your future couldn't be brighter. Now, you can take action and boldly claim your birthright of abundance."
Randy Ward
"Where did you come from? I have never heard anyone speak from such authority and from such a deep place of knowing. It's obvious you practice what you preach."
Dr. Neal House, Dental Associates
"I just had to write to let you know how your work has influenced me. Your easy, natural, innocent and loving manner is truly unique. Thank you for scratching away one more layer of darkness that prevented me from seeing the light."
Kay Verney -- New Salem, MA

Natural Order of the Universe

Who can deny that there is a natural order which pervades the entire Universe? Recently, a natural, predictable order was discovered, even in freely traded markets, like stocks and commodities. Previously, it was thought that their price fluctuations could only be random.

The natural order of the Universe is Abundance, yet 97% are not experiencing it because they are out of alignment. Most "would be" entrepreneurs have no concept of the simple, powerful principles which can propel them to success. Some have the "head knowledge," but most are unable to use it profitably!
Just as the human genome cracked the genetic code that reveals untold secrets of the human body, Randy Ward's What Makes the Difference seminar has cracked the psychological code that activates a person's sense of worthiness. This is the secret code that has eluded the personal growth industry for years.

What Makes the Difference?

Why are so few healthy, wealthy and fulfilled? For more than a decade now, Randy has lived in the question, "What makes the difference?" Through study, observation, the help of mentors and divine providence, he has discovered, communicated and packaged the answer in a way that truly "makes a difference"!

Now Available on DVD


Until now, Randy's transformational message has only been available to those who have traveled to, and attended, one of his all day seminars. Now, you can benefit from the seminar's most important two hours, in the comfort of your home.
Would you like to have power over fear? It stops most people, yet we have never been taught how to effectively deal with it. By utilizing a simple technique, fear will never stop you again!

Would you like to quickly turn your dreams into reality? We are not creatures, we are creators, but we have not been taught how to create. Being able to fully access your creativity could be priceless. What might you create?

Do you know the truth about "childlike Spirit"? When you do, it will transform the relationships that you have with your children, as well as your own "inner child". You will experience them in a whole new way.
"I have had the opportunity to attend seminars by Tony Robbins, Jim Rohn, Zig Ziglar and Brian Tracy, and you are better than them all. Your depth, sincerity and 'open heart' touched me deeply, and permanently."
Chris Andrusco, Nanaimo Realty
"We are students of self-motivation and have heard Tony Robbins, Jim Rohn, Zig Ziglar, Bob Proctor and others, but none have moved us like Randy Ward. If you are having an event, do whatever it takes to get Randy there."
Lou & Ann Cedrone -- York, PA
"Excellent! Talked about the very essence of life. My kind of thing. Return? Yes Please!"
Reverend Jack Pilger, Rexall
What you can expect from this Amazing Seminar:
IT'S ABOUT RESULTS & PRODUCTIVITY
You will start using the "80/20 Rule" to work Smarter, become more effective, and produce greater results - a "jump start" toward your best year ever!

In all areas of life, we are taught to treat the symptom rather than the cause! You will stop trying to solve your problems at a level they can't be solved!

When you move from creature to creator, you begin "attracting what you want" by shifting and controlling your focus; by moving from being competitive to creative; and by using the two most powerful words in the Universe!

You will learn specific strategies to increase your productivity immediately. You will be able to pass these ideas on to your team, and measurably increase their sales and their income.
There's much more, but Action is the only thing that produces results, and this seminar will move you to produce more results than ever before. But before it can do that, you must take the first step now! In order to assist you, we are going to "make you an offer you can't refuse"!
This is our introductory offer, and since you may not be familiar with Randy's work, we are offering the two hour video seminar at half price! Until now, it has only been available at Randy's seminars.

Instead of $79.95, it's yours for only $22, and the first 100 people to respond will receive an autographed copy of Randy's amazing book Selling - Recruiting - Managing, absolutely FREE.
ORDER NOW
and we'll include Randy's 244 page
Selling - Recruiting - Managing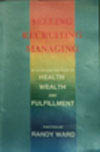 $15 Value -- FREE
(one per order)
"I can say without fear of contradiction that this book will take its rightful place among the great books of our time."
Cavett Robert, Founder National Speaker's Association
"Everyone who wants to be a big success in sales and marketing needs to read, understand, and utilize the contents of this great book."
Dr. Mark Victor Hansen, Author/Speaker
"Everyone involved in sales and marketing should keep a copy of Randy's book on their desk. It will help you develop the inner qualities which lead to success."
Ron Smotherman, Context Network
100% Risk Free Request Form
Money Back Guarantee
100% Secure via PayPal

Yes I want to know What Makes the Difference?
and get a FREE COPY of Selling - Recruiting - Managing
I want to develop the sense of worthiness
that leads to success and wealth.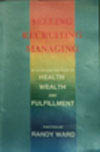 ---
Obviously, now is the best time to catapult your life and your business to unprecedented heights. Don't let your competitors beat you to it, or they could use What Makes the Difference to capture more of your business.

Here's the good news:

Now that you realize how Randy Ward's seminar will turbo-charge your business to incalculable heights, you'll be surprised to learn that you can discover What Makes the Difference for the very small investment of $39.


Try it now, risk-free. If you are not satisfied, just let us know within 30 days, and we will issue a no-hassle refund. Although it is highly unlikely that you would be anything less than thrilled with What Makes the Difference, should you decide to request a refund, the free bonus, Selling - Recruiting - Managing, is yours to keep and enjoy as our gift for merely taking us up on this offer.

Wishing you the best,
Network Support Group

918-938-8200


P.S. Frankly, I know nothing that could make a greater difference in your net worth than the infusion of Randy Ward's discoveries into your life.

Oh, and did we tell you that the seminar is remarkably entertaining?

"There are motivational speakers who are funny and those who are serious—and Randy is gifted in those ways too. But, there is so much more.

Randy's seminar takes you 'within' to the greatest of all frontiers, and helps you discover and plug into the power which has always been there to serve you. If you are open minded and coachable, it will transform the quality of your life, and your ability to produce Results!"

Christian Martin, NATO
---
Included in Randy's two hour seminar:
IT'S ABOUT TAKING CHARGE
An indescribable emotional journey that will expand your self-confidence, rekindle your determination, enrich your attitude, and intensify your ambition to alter your life for the better.

You will discover Your True Power and how to tap it! (The power is not in what you know, and it is not in what you think.)

You will learn how to stop worry, guilt and fear, before they Stop You!

You will learn how adults disconnect from the "power" by stifling their "Childlike Spirit"!
IT'S ABOUT CHANGE
You will discover what has you "stuck" and how to move to the next level, in your personal life, as well as, your business! It pushes people out of ruts!

You will learn why only 3% of all Americans are wealthy and how you can join them! You will learn why "the rich get richer & the poor get poorer."

IT'S ABOUT A COMPETITIVE EDGE
You will become a more effective Agent of Influence in all areas of life! Being able to influence yourself and others is the ultimate skill for achieving overwhelming success.

You will take a fresh look at your dreams and have new tools for achieving them!

And Much More...
More about the book, Selling - Recruiting - Managing
Every day, readers give thanks for having discovered Randy's "life changing" - business enhancing book, and today, you can receive it as a gift. It will coach, and prepare, you for entrepreneurship, which Randy calls "the accelerated game of life," in a way that will enable you to attract and harvest the wealth that is waiting for you. The Universe has great wealth just waiting to bless those who discover and align with the Principles of Prosperity!